Usually Big Alphabet cutting dies are more expensive than silicone stamps sets. Every card maker hesitates to buy an alphabet set if sees a limited usage of it. Can you think of more than three or five ways to use these steel dies? If you answered yes, go grab them! The Big Alphabet and Words dies are trendy now.
Hello everyone! This is my second blog post about the trends in card making for Clean and Simple style. I published
the first post about Bouquet Stamps
in August 2017.
(Перевод публикации на русский язык выйдет на следующей неделе.)
Card Making Trend #2 - Big Alphabet and Words Dies
Big alphabet dies are sets of steel letter-shaped dies for die cutting with machines. There are several dies sets available currently in the market from Altenew, CZ Design, and My Favourite Things.
If you want to make quickly several cards based on one main step (2-For-1), enjoy playing with various techniques, are keen on extending use of your stamps stash or just love making shaker-cards, big alphabet dies are made for you.
10 Ways To Use Big Alphabet Dies
Here are some ideas and examples for using Big Alphas for making cards.
1. Inlaid Die Cuts, a good technique for cards to be sent by post, results in flat and not so heavy cards. Postage fee always matters for Holiday Season.

2. Use foam tape or several layers of card stock to add dimension to your card. Poped-up die cuts are always striking.
Have you ever combined Big Alphas with stamps? There are several techniques to extend use of your stamps and dies.
3. Stamp images down to the die cuts to make a strong focal element.
4. Stamp over the die cuts
5. Die cuts make a Tone-on-Tone technique simple, specially for white-on-white style cards.
6. Combine with sentiments stamps - Another take on using the Big Alphas is to replace a word in a sentiment stamp with a die cut, positive or negative.
7. Use together with big background stamps
9. Use glitter card stock for festive look.


10. Add ombre shading to letters.
Tip:
Think of your own short funny words or copy sentiments from stamps manufacturers. I love several sentiments from My Favorite Things, e.g. hogs and kisses, see you soon, ski you soon.
For more ideas please visit my Pinterest board, on which I collected more inspiring cards.
I recently added
Celebrate Speech Bubble die
to my stash and today I am sharing the first card made with it.
I started with creating a bokeh background for the card panel. You can see a quick video on my Youtube channel about making bokeh effect with Distress inks and masks. Then die cut the speech bubble and repeated die cutting with glitter card stock. The panel is glued to a white card base, while letters are popped up with foam tape.
I am sharing this card at the following challenges:
Inkspirational Challenge #147
dedicated to Trends in card making.
Tic Tac Toe #23
- Using Sentiment, Die Cut and CAS
HLS November Anything Goes with Dies
Crafty Creations Challenges #354 - Anything Goes
Dream Valley Challenges #167 - Add A Sentiment
The Sisterhood of Crafters - Let the Sparkle fly!
Cardmania Challenges - Anything Goes
Cards in Envy - Typography Card Challenge
Closing Thoughts
Big Alphabet and Word steel dies are fantastic tools for card makers, adding dimension to cards, helping to build a strong focal element, and stretching the existing stamps - background, small image stamps and even sentiment stamps. To find out more inspiration about the Big Alphabet and Word dies and stay updated, please follow my
Pinterest board
dedicated to them.
Thank you for stopping by! Have a great start of the weekend!
Celebrate Card Supplies: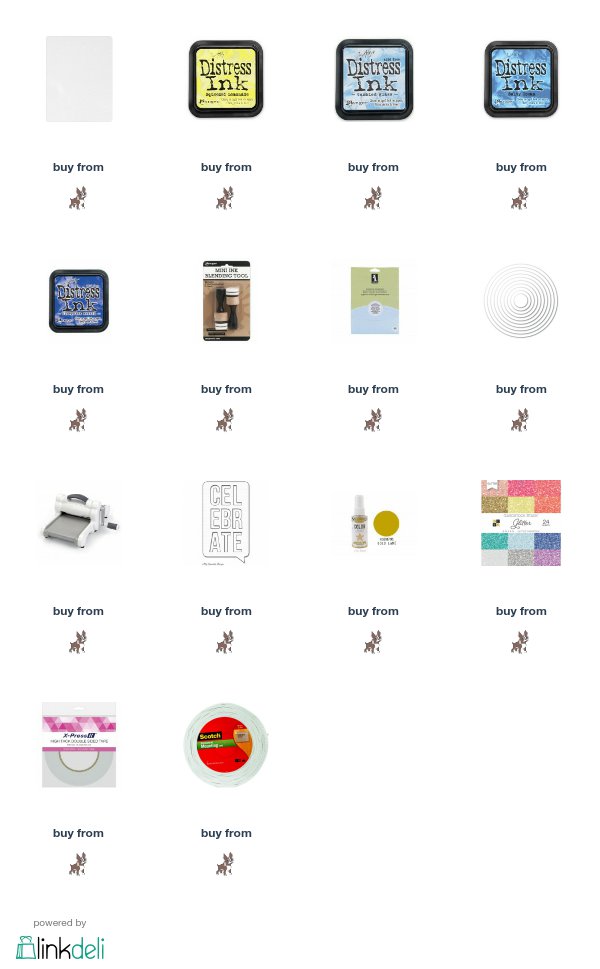 Big Alphas and Word Dies: